Gtak5
Gtak5 gives MIDI guitar users easy access to over 800 instruments from Native Instruments Kontakt5's 43GB sonic arsenal. Note that Gtak does not support Kontakt6.
Gtak5 runs inside Kontakt5 instruments (as a KSP script), making them work seamlessly with Guitar to MIDI converters.
Comes with versions of over 800 instruments from Kontakt5's standard library tweaked for instant use.
No need to make settings or load one instrument per string. Everything just works.
Customers who have Gtak and Gtak4 can upgrade to Gtak5.
To use Gtak5 you must have Kontakt5 from Native Instruments and a Guitar to MIDI converter, for instance the Fishman TriplePlay, AXON AX100 or AX50 or Roland GR/GI units.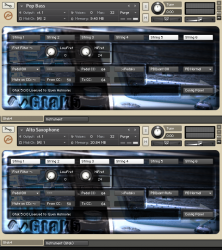 More information about Kontakt5 is available from the Native Instruments site. In particular, look at the Library Page. Gtak5 comes with versions of most of the instruments in this library except for Retro Machines and the most of the VSL Legacy Instruments.
Before purchasing you should read the License, it tells you what you can and cannot do with Gtak5. For instance you cannot share patches that contain Gtak5 except with other registered Gtak5 users through this site.
Gtak5 is supplied as a download only. The file size is about 50 megabytes.
You must have Kontakt5 and its instrument library installed to use Gtak5.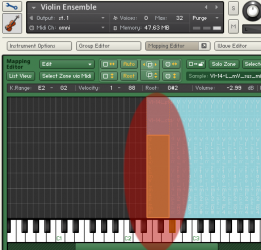 Kontakt5's sampled acoustic instruments play over the same range as the real instruments. This is great if you are a boffin trying to program a realistic violin part, but annoying if you are just trying to play.
To get around this problem we have extended the range of all instruments to match the guitar. For instance, the violin shown above originally only played down to G: by changing the range the lowest sample we have made it play down to E. A small loss of realism for a big gain in playability!
Main features of the Gtak5 Script
No need to load 6 instances of each instrument! Load up a single instrument and play - bends, slides and hammers all work.
Fill Kontakt's rack with up to 64 instruments and play as many as you like.
For each instrument:

select which strings, fret range and picking position (Axon only) it responds to with a few mouse clicks
select how pitch bend is handled: unquantised, quantised, automatic or retrigger
transpose individual strings or the whole instrument
assign a foot pedal (or some notes on a particular string) to control hold, sustain or muting.

All settings are saved in your song (plugin version) or Kontakt Multi for instant recall.
No need to switch settings on your Guitar to MIDI converter.
Smart Controller routing can route controllers to whichever instrument played last. For instance, the wheel controller can automatically control the volume of whatever sound you are playing.
The demo version of Gtak works with the demo version of Kontakt3, so anyone with a Guitar to MIDI converter, computer and soundcard can try the system. We do not have a Gtak5 or Gtak4 demo, but the Gtak demo covers almost all of Gtak5 and Gtak4's features.
The demo will also work in the full versions of either Kontatk3, 4 or 5 (although you may get reports of missing impulse response files in Kontakt4 or 5).
Installation is as simple as unzipping the file, and then placing the Gtak folder in your Kontakt library directory (see the Gtak manual for more details). Then, in Kontakt, just load the Gtak multi followed by the instruments you want to try.
In Kontakt5 you will get messages about missing sample files, this is because NI have moved all the samples. When the message comes up:
check the box near the bottom for "Allow alternative file types"
click "Browse for folder" then select the "Samples" folder under "Kontakt Factory Library"
the samples should then all be found
you can then save the instrument with the new sample paths
On some instruments there will be a few files still not found, these don't matter, so just click "Skip Missing" if this happens.
The main demo limitations are:
Only 7 instruments - the same 7 that come with the Kontakt3 demo
Instruments only run for 30 minutes
State is not saved
There is no config panel, so you can not change any of the things that are changed there (tuning, transposing, midi channels, automation modes etc)
The 7 instruments are (we didn't pick them, these are the ones that come with the Kontakt3 demo!):
Jazz Basic: Organ
Uilleann Pipes: NI set the drones to latch which can be confusing, you can turn the latching off in the Instrument panel.
Green Bag - Urban Beats kit: patterns mapped to low E string, effects presets mapped to A string
Kora
Harpsichord
808 Kit: with drum computer patterns mapped to low E string
Cerulean: Synth Pad.
Have fun!